DEDICATED SERVERS
Our high performance dedicated servers are the ideal solution for game servers demanding raw, scalable performance.
CUSTOMISE YOUR DEDICATED SERVER
OPTIONAL EXTRAS
16GB RAM
DS1 and DS2 - Max 128GB
64GB RAM
DS3 - Max 256GB
Intel Xeon E5-2680 CPU
Storage Configuration
1TB (2 x 0.5TB SSD)
1.5TB (3 x 0.5TB SSD)
2TB (4 x 0.5TB SSD)
2TB (2 x 1TB SSD)
3TB (3 x 1TB SSD)
4TB (4 x 1TB SSD)
4TB (2 x 2TB SSD)
6TB (3 x 2TB SSD)
8TB (4 x 2TB SSD)
R302/mo/module
R1100/mo/module
R1100/mo
Included in base price
+R423/mo
+R770/mo
+R550/mo
+R1210/mo
+R1870/mo
+R1430/mo
+R2530/mo
+R3630/mo
cPanel Accounts
100 cPanel Accounts
150 cPanel Accounts
200 cPanel Accounts
250 cPanel Accounts
300 cPanel Accounts
350 cPanel Accounts
400 cPanel Accounts
450 cPanel Accounts
500 cPanel Accounts
Pricing
R1030/mo
R1270/mo
R1512/mo
R1754/mo
R1996/mo
R2238/mo
R2480/mo
R2722/mo
R2964/mo
cPanel Add-ons
Softaculous
CloudLinux
LiteSpeed 8GB
LiteSpeed Unlimited
Kernelcare
JetBackup
Immunify AV+
Immunify 360
TCAdmin
Pricing
R55/mo
R299/mo
R328/mo
R715/mo
R42.90/mo
R141/mo
R141/mo
R471/mo
R200/mo
INCLUDED WITH ALL DEDICATED SERVERS
DDOS PROTECTION
Speciaized DDoS protection platforms means automatic, filtration of various types of attacks.
POWERFUL CONTROL PLATFORM
Manage your dedicated machine with our industry-leading game panel. Install as many game servers as you'd like!
FREE DEDICATED IPV4
We provide one dedicated IPv4 address but offer a limited amount of additional IPs at an additional charge.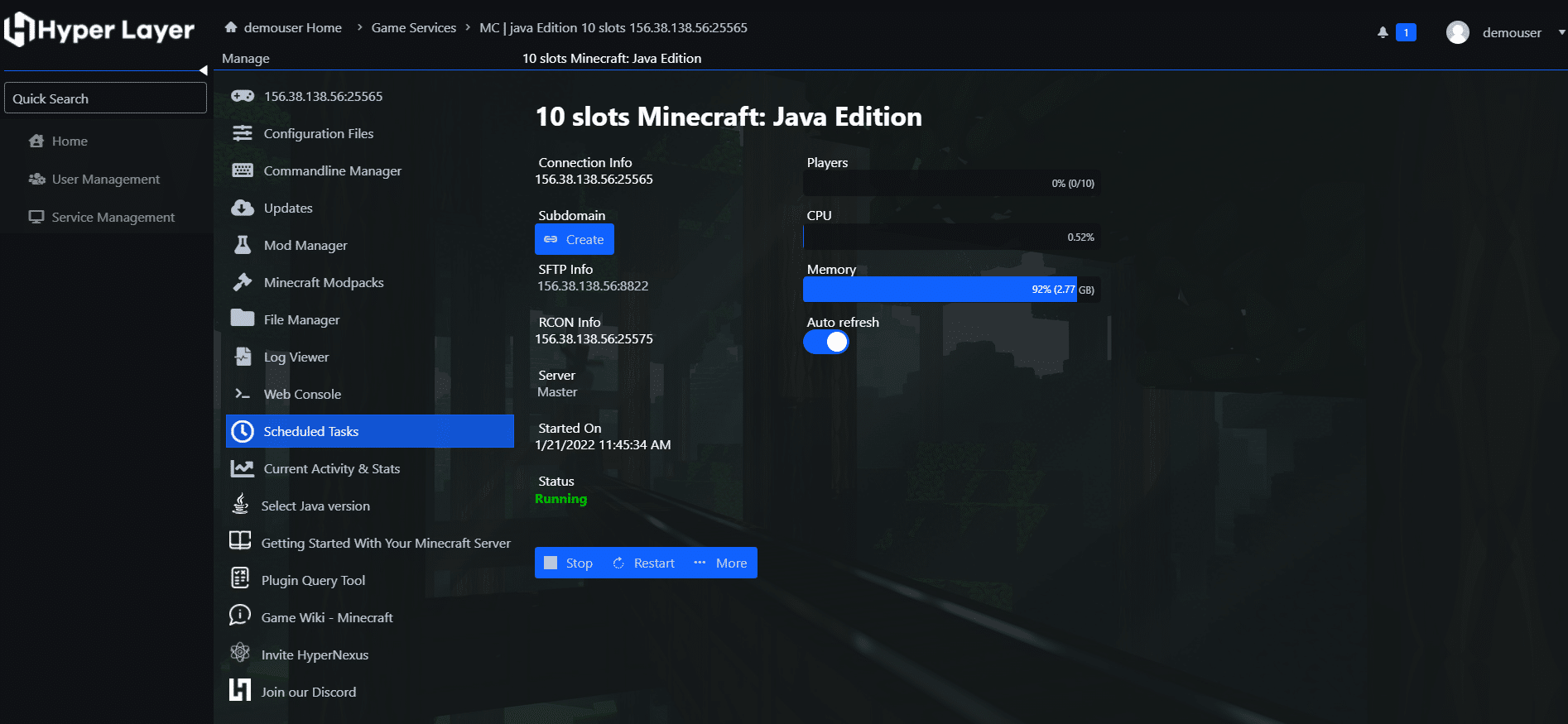 Powerful Server Management
POWERED BY TCADMIN
Our hosting panel puts you in complete control, with the ability to oversee all your game servers in one place, even with different games and locations. It's also easy to add sub-users without giving them complete control, perfect for servers with a moderation team.
REASONS TO GO DEDICATED WITH US
FAQ
If you still have unanswered questions, please reach out to us and we'll be happy to assist.
Do i get full access to my server?
Yes, we give you full access to to your dedicated server via IPMI & RMI
If I struggle with my setup, will you help?
Our servers are provided as self-managed initially, however, We can setup different services for you at an additional charge
Which operating systems can I run on my server?
We offer all of the most popular Linux distributions such as Debian, CentOS, Ubuntu, Fedora aswell as Windows, from server 2012 - 2022
Do you have protection against network failure?
Our cabinets and switches are all dual connected to edge routers. These routers in turn have fibre connections over multiple uplink providers. We also stock backup hardware. In the event of a DDOS attack, our upstream providers will route traffic through our cloud-based data scrubbing service to ensure continued reliability. This service switch-over is seamless and performed within seconds.
Where are your servers located?
Our servers are co-located in Johannesburg South Africa to ensure you have the highest speeds.